Grant's Christmas Lights Construction 2009
The following page will give you some idea of what has gone into building this display. It has taken many thousands of hours of work over 6 years to create what you see today! We hope you enjoy and appreciate our efforts.
The vital statistics for 2009:
Quantity of Bud Lights used ~ 11000
Quantity of LED Lights used ~ 6000
Quantity of Rope Light used ~ 110m
Quantity of LED RGB Rope light used ~20m (480 RGB LEDs)
Light-O-Rama Control Channels - 196
Total Power Consumption ~ 4100 VA or 17.1A from the 240VAC Mains across 2 breakers
12V DC Power consumption (peak) - 6 Amps
28V DC Power consumption (peak) - 70 Amps (~1800 Watts) (split over 4 rectifiers)
36V DC Power consumption (peak) - 3 Amps (~100 Watts)
240V AC Power Consumption (peak) - 8 Amps (~1910 Watts)
Power Cost for 2009 (estimated) - approx $40 (AUD)
Visitor Numbers (estimated) - approximately 2000
Construction Video
This year I have produced a short construction video showing how the display was put together over the last 2 years of Light-O-Rama and 4 years of building decorations.
How I Built My Christmas Lights Display 2009 from Grant VK5GR on Vimeo.
This short film will give you an insight into the workings behind my Christmas Lights display, including taking a look at how it was controlled, programmed and constructed.
Further information can be found at christmas.darkeyrie.net .
If you want to know more about using Light-O-Rama equipment in Australia, why not become a member of the Australian Light-O-Rama Users mailing list at groups.google.com/group/aussie-lor-users/ .
Collections of their videos are available from the www.vimeo.com/groups/aussielightorama/ Vimeo group!

---
The 2009 Construction Activities
In 2009 I have built on the 2008 display mostly through additions and renovations. Through the renovation work, one of the main aims of this year was to increase the effective use of colour across the dispay.This is a theme that will continue into 2010.
The Mini Trees turn Multi-Colour
The constant replacement of the bud lights on the mini trees due to them blowing in the wind lead to a ritual every few days of having to go through and replace bulbs. So in 2009 the mini trees firstly got an upgrade to LED lighting - and since they were getting an upgrade, the decision was made to add some colour as well. A bargain purchase on December 26th led to the mini trees now having a choice of red, green, yellow or blue lights! To make it even more interesting, the controller was also upgraded so that each colour on each tree was able to be independently controlled.
The results are on display here: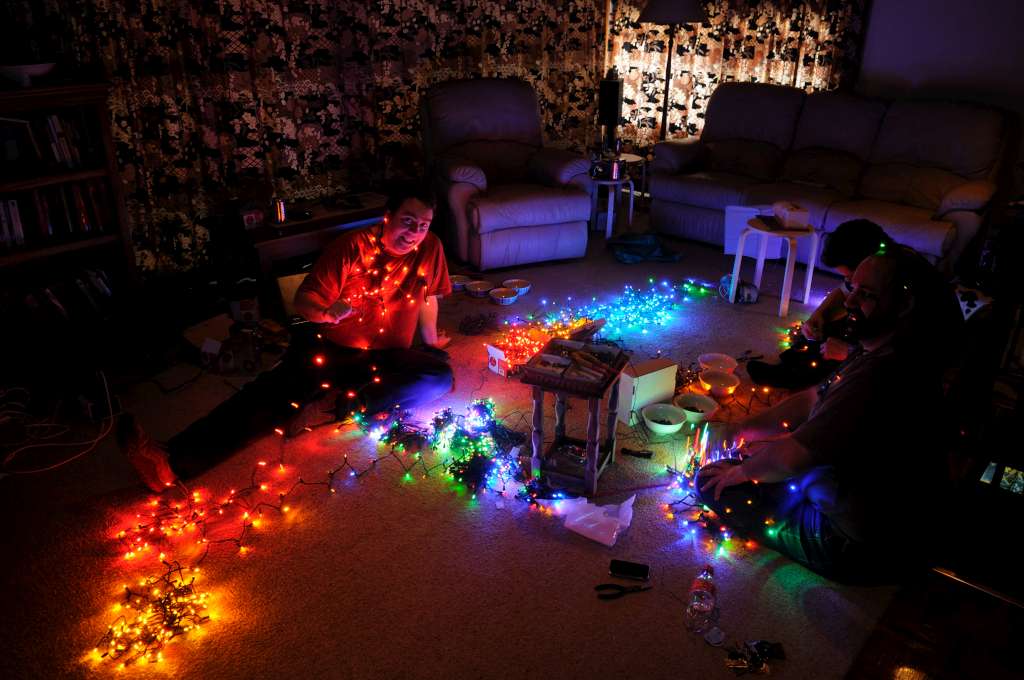 The Mini-trees deployed on the front yard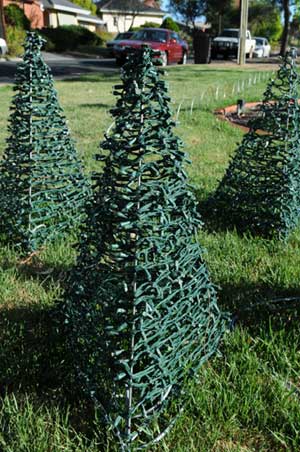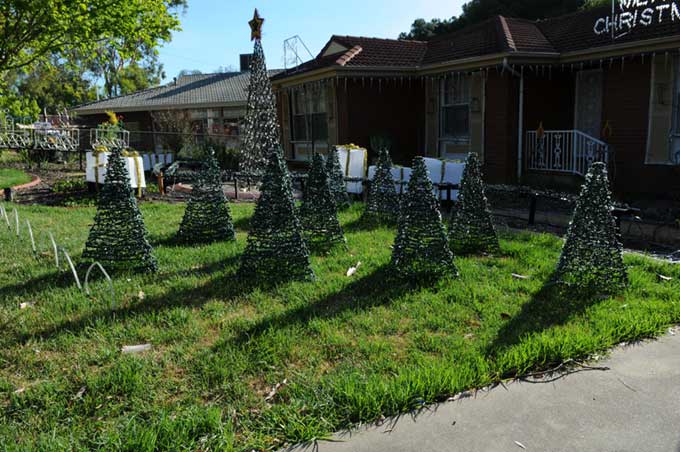 New Controllers for 2009
To drive these, a new 40 channel controller has been built, running on dual 24/36v supplies (to cater for the LED driver requirements). The trees have been wired with 6 core cable and the three controllers required to drive it have been mounted in a common controller.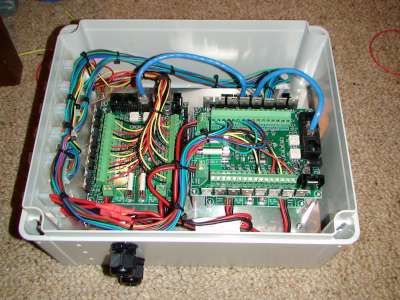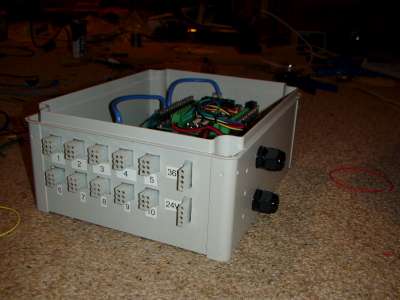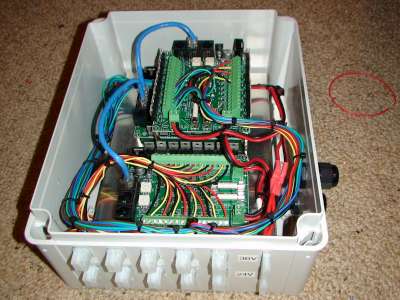 Mounting The new controllers
The new controllers have been also mounted in the car port and can be seen here: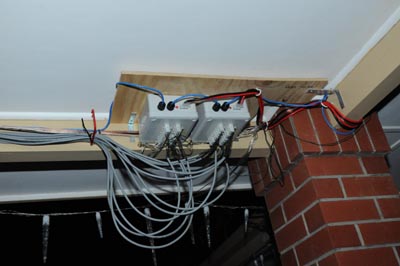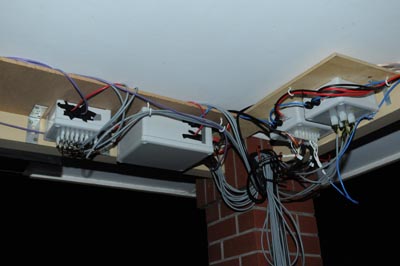 The Presents get an Upgrade
The presents also received a major upgrade with the entire way they were lit being changed. Previously they were just wire frames with lights attached, which always had problems trying to convey what they were meant to be. This year, they were lit via a light box placed underneath, with a fabric sock stretched over the frames instead of lights. To light them, 12v automotive bulbs were used (those found in brake lights), 2 in series to run on 24v, allowing red and white to be added to the display.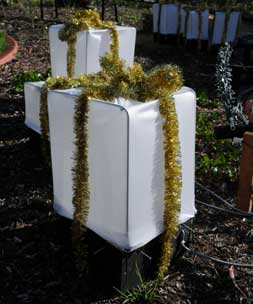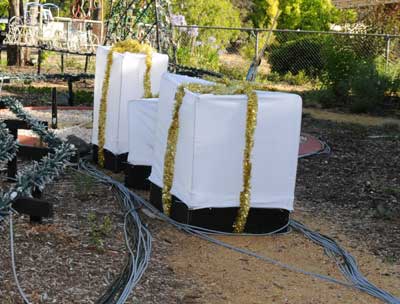 Santa's Train Tracks
The train tracks in past years have been formed by LED 240v rope light. With the move away from 240V lights being used on the ground in the yard this year, and the lights from the mini-trees being replaced with LED, it was fitting that the old fairy lights continue to live in a new form. This year they were wound onto 19mm PVC pipe and supported on T-bar mounts to simulate railway tracks.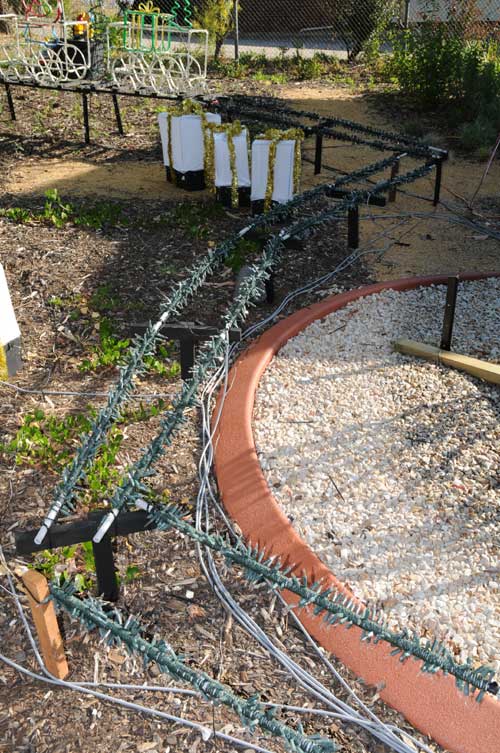 The Dwarf Choir Backdrop upgrade
The back drop for the dwarf choir also received an upgrade this year, finally formallising it into something that will be re-used year on year. Three spiral mini treews were constructed using fairy lights and tomato trellis.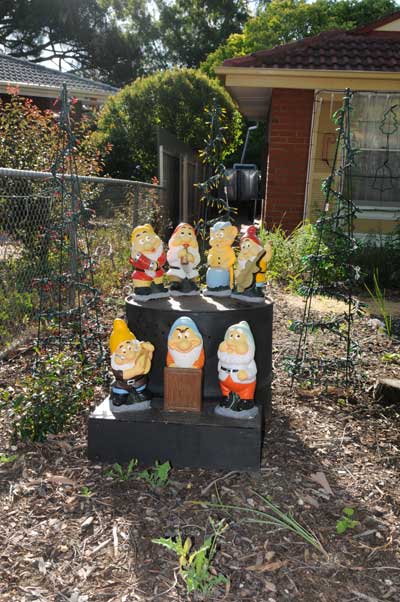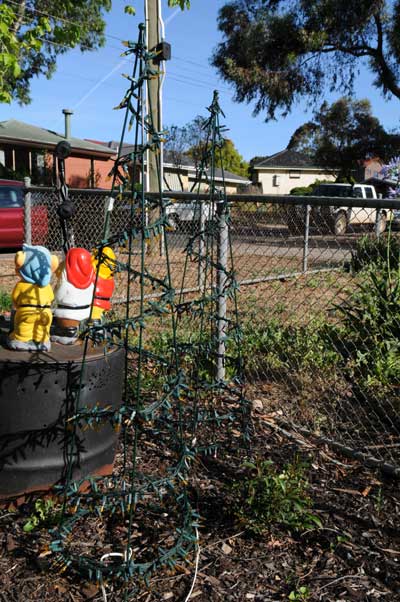 First Venture into Roof Mounting
As a test this year, the "Merry Christmas" signs were mounted onto new aluminium frames which cliped into the roof tiles. Aluminium was chosen so that it wouldnt rust and stain the roof. These proved very effective and marks the start of a roof lighting expansion into 2010.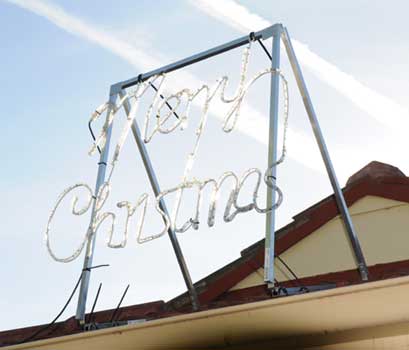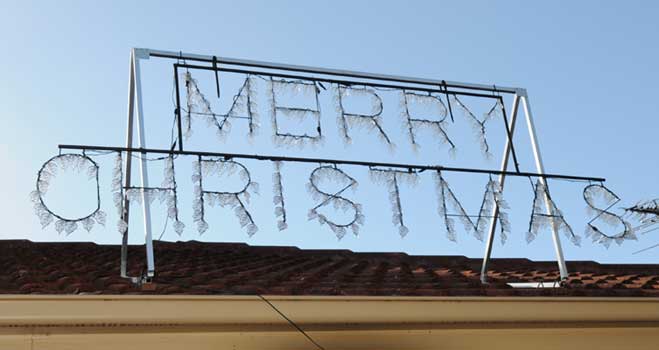 Window Decoration Upgrades
The windows finally realised their full potential in 2009 with the addition of the individual window fill elements purchased in 2008. These were placed on individual control channels and allowed various themed effects to be run through the show.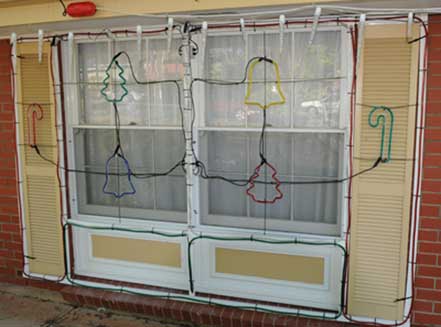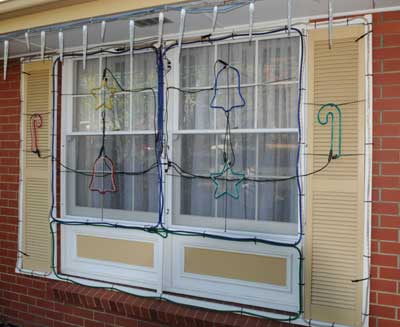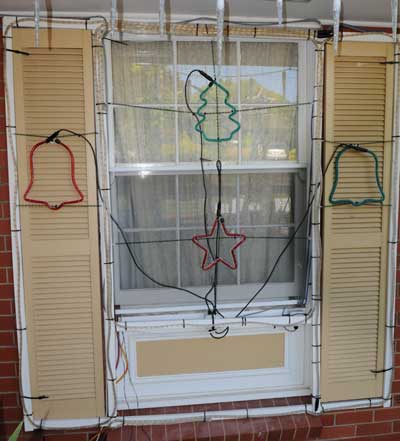 Looking back over all of that, it is no wonder that I was exhausted at the end of 2009. The results however were worth it!
---
Past Years - Lights Construction 2008
The 2008 display has some interesting vital statistics for the technically minded:
Quantity of Bud Lights used ~ 12000
Quantity of Rope Light used ~ 150m
Light-O-Rama Control Channels - 96
Total Power Consumption ~ 3100 VA or 12.9A from the 240VAC Mains
28V DC Power consumption (peak) - 45Amps (1260 Watts)
240V AC Power Consumption (peak) - (1840 Watts)
The Light-O-Rama website can give you more information on the control equipment now being used for the system.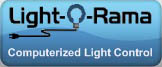 Design and construction for 2008 began in May, the earliest it ever has this year!
New additions for 2008 include:

Blue Icicles for the gutters
Red LED Merry Christmas Sign
Arch fence for the front yard border - 16 control channels
Rope light window frames for each of the front windows
Rope Light Nativity Scene
To design the musical sequences the Light-O-Rama package lets me simulate the design of the lights long before they are deployed. Sequencing is time consuming and so far about 3 months has been spent designing how the lights will switch with the music. The following shows some of the screens from the sequences being used this year.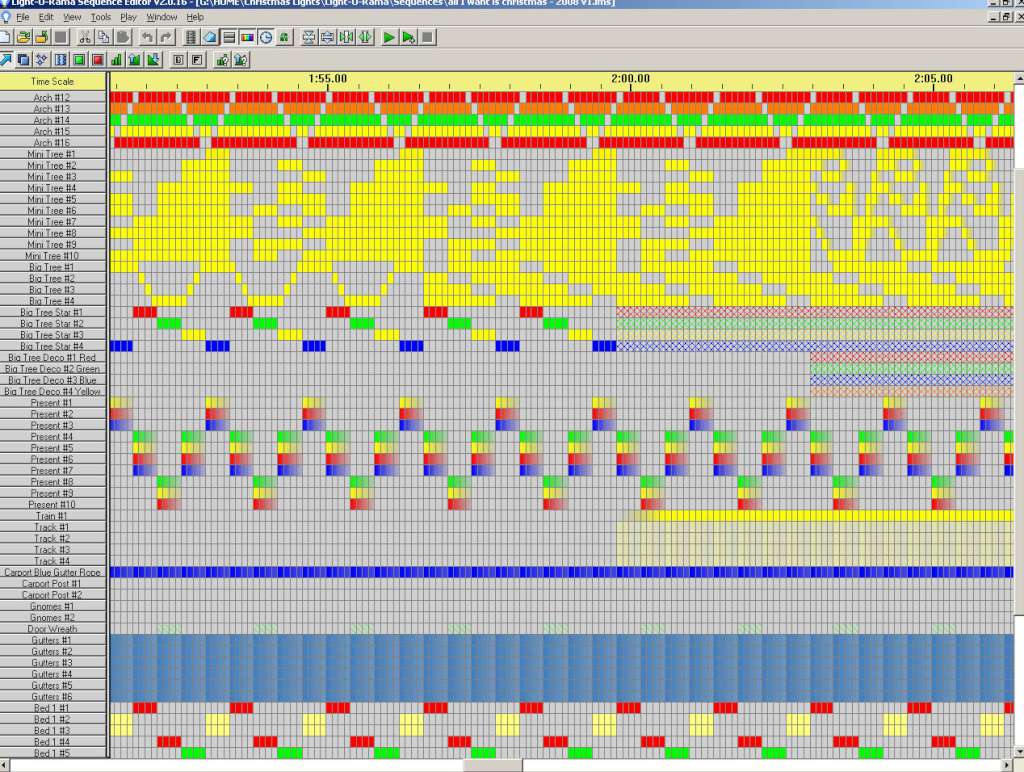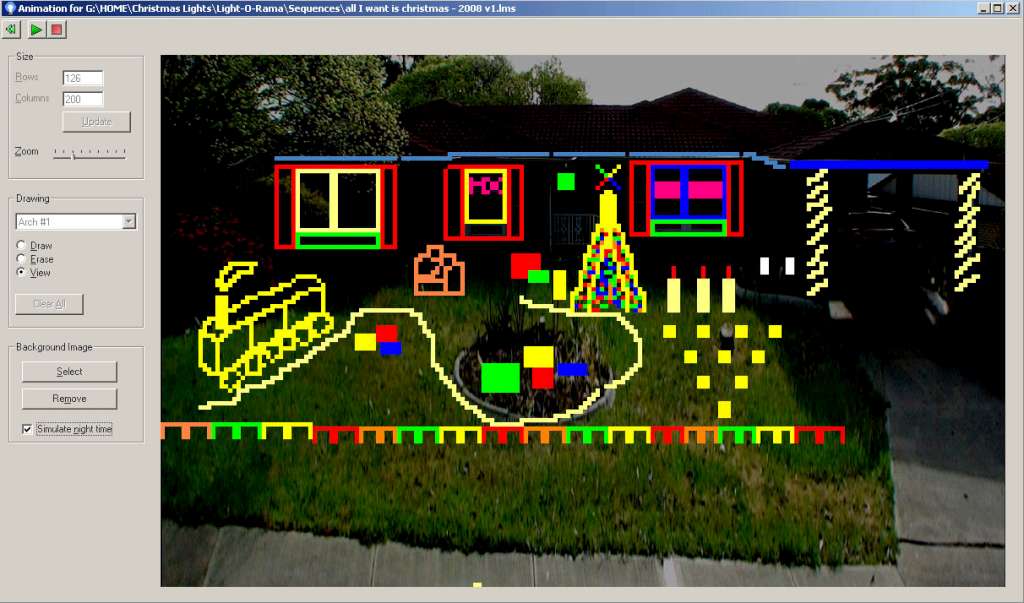 ---
Photos from 2008's construction work
Additional decorations for 2008 included rope light outlines for the windows across the front of the house. These have been built on frames, so that they can be quickly installed and taken down each year.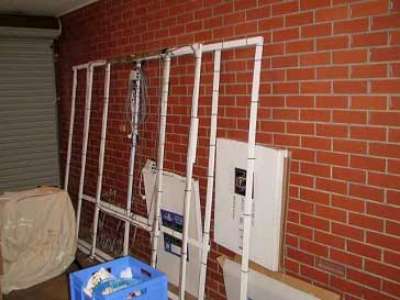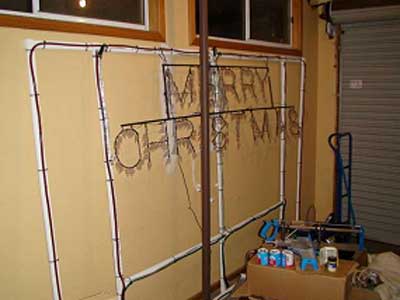 A new tree star has been constructed with more control elements as well. A further new decoration was the arches to span the front yard. These were from Arlec originally and came in packs of 8 arches with multi-function controllers. In my implementation the arches have however been re-wired ready to take up 16 channels of LOR control.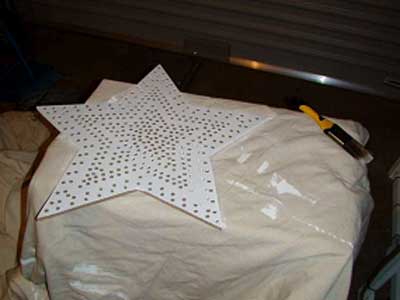 Light-O-Rama Packaging and Installation
To save money, the controllers I imported were all short form kits, saving weight in the transport and allowing me to adapt them more easily to Australian conditions. With much help from Matt, we have packaged the controllers and assembled the kits as you see below.

These are the DC Controllers (CMB-16D) mounted in their outdoor cases.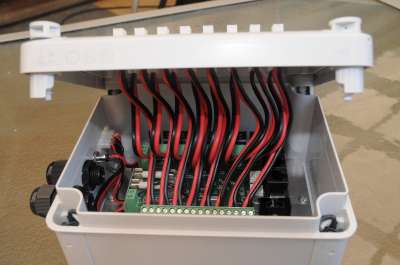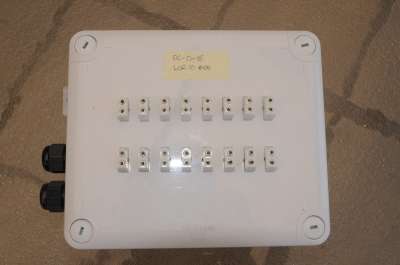 This is how they have been mounted up under the car-port.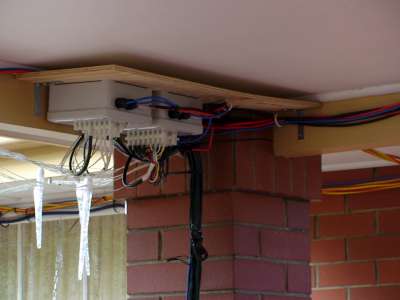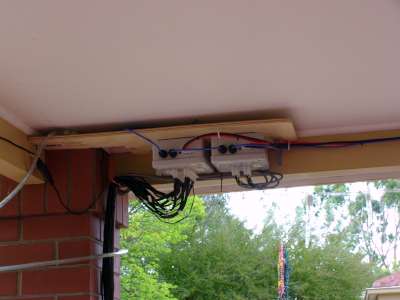 The AC controllers (CTB-16D's) have also been designed into completely water-proof cases in case they get mounted out-doors in the future.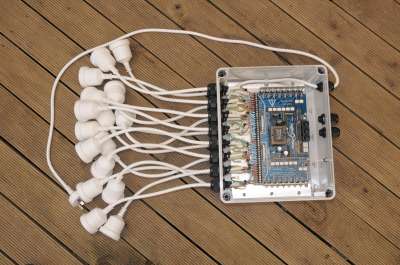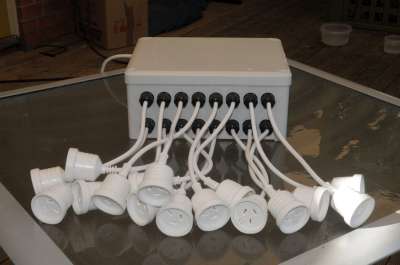 Matt and Grant working on the AC controllers installing snubbers and gate resistors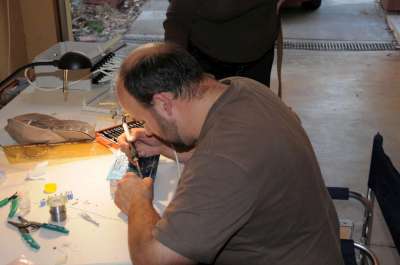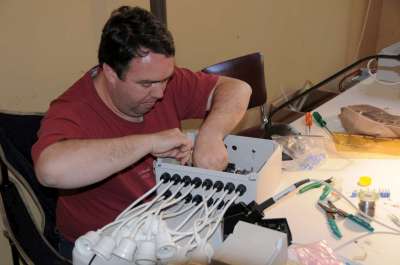 The show is being driven by one of the MP3 Show Director cards, which are programmed using an SD card. The show director case (shown below) also has an FM transmitter installed which was obtained from Fordray Electronics in Orange in NSW. Some small modifications were made to the show director to allow us to remote the LED indications to the front panel. We must confess to being disappointed that LOR doesnt make the LEDs do some more interesting things while playing shows - so that we know a show is actually playing. A tip for them to consider in the future.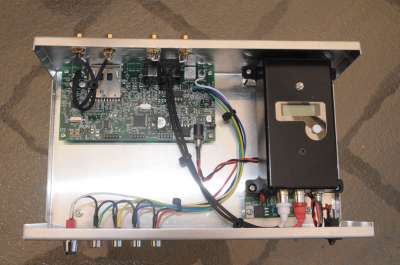 Installation day came on November 29th. Help was had from many friends. Here is Mark "back on the tools" wiring plugs onto some of the decorations, and Grant installing the Big Tree Star (new for 2008)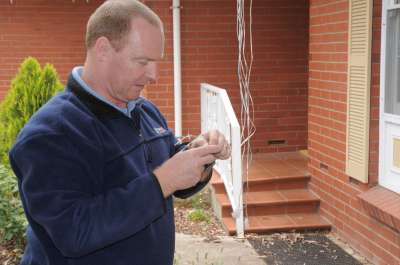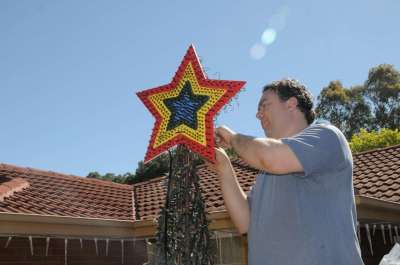 We started at 8.30am when we cut the lawn (for the last time till 2009!). The lights finally were turned on at 10.30pm that night, although a lot of followup tweaking has occured in the week since to get the channels straight, work on solving some controller issues and getting the last of the decorations deployed.
Here is Matt sitting outside plugged into the controller network. Now where did that channel go again?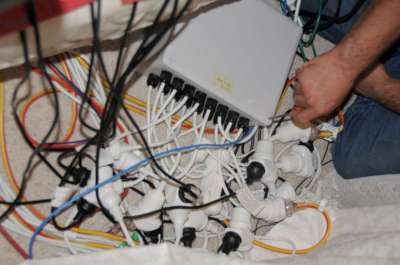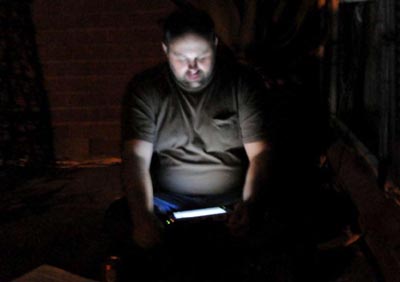 LOR 240 VAC Controllers Not all plain sailing
Commissioning the LOR hardware has not been all smooth sailing. The AC controllers have caused some problems to date with random firing of channels and low load issues. The design of the controllers originally included 16A TRIACs. We knew before we started that the minimum load requirement of these TRIACs would not be low enough to handle the LED rope lights I had been investing in over the past 12 months (so that I could get more light for less power). To overcome this, my controllers were built with 4A TRIACs instead. This has lead to more problems than it solved potentially.
For starters, while the load current requirement was lower (40mA instead of over 100mA) under dimming this still wasnt enough. Dummy loads have been added to all of the channels as a result to keep this aspect of the TRIACs operation happy. You can see these laid out in the bedroom - which gets it's own eire light show every night as a result.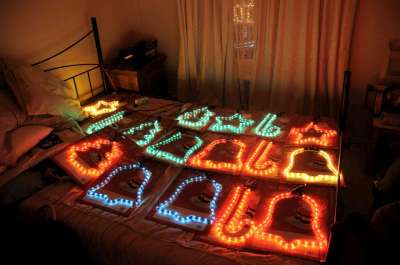 The problem with the 4A TRIACs is that they are more sensitive to noise on the AC mains which results in them reaching their avalanche voltage and false triggering. We also found that the 4A TRIACs drop out current still wasnt low enough to deal with the LED rope light - to the extent that I have added a set of 10W loads to each LED channel and reduced the dimming sequences to not fall below 50% power. The lower rated TRIACs have a lower avalanche voltage as well, which I suspect has made them more susecptable to false triggering. As a result of all of this, and a closer look at the circuitry around the TRIACs from LOR, we has added dV/dt snubbers (series RC circuits) to the output of each channel to shunt the high voltage switching spikes to ground before they get back to the TRIACs. This has stopped the false triggering in it's tracks. We also tied the TRIAC gate to drain via a 10k-ohm resistor so that it is not prone to noise triggering the gate when it is supposed to be off. These changes have virtually stoped all the mis-fires and made the entire rig more visually appealling (while reducing the hash broadcast back into the house mains.
Next year, the plan is to experiment with the AC controllers further to the extent that all the LED channels may be grouped onto one controller and it be further modified to take 1A TRIACs with a 3mA holding current. This should allow us to dim LED channels successfully - and will be the configuration we will use going forward on the 240VAC controllers.
Overall, however, the Light-O-Rama package, while having a few small quirks, has been a great base for creating Christmas Light displays. The sequencer software in particular is very good and I am impressed with the DC controllers and MP3 show director which have given faultless service to date. I certainly will be looking to extend my rig next year with more DC boards as well and for newcomers to computer controlled lights, you will find the LOR package excellent value and not that difficult to get going, provided you have some basic electronic knowledge.
---
Previous Years - 2006/2007
Follow this link to see some of the construction work undertaken in previous years before the introduction of Light-O-Rama controllers.
---